The Colditz Glider Photo Page
These guys lived for 56 years wondering... would their glider have flown? There it was in front of
them... flying.
Photos Courtesy of Neil Lawson, the white planes picture co.
It was a cold and windy day. They looked frail. I wondered at the wisdom of exposing these old warriors to such bitter elements. I was not prepared for what unfolded. Following the 'maiden' flight (there were four in all), each time I looked at Bill and Jack, they seemed younger. They were experiencing palpable rejuvenation. They eventually became as excited as a couple of kids at Christmas. Neil Lawson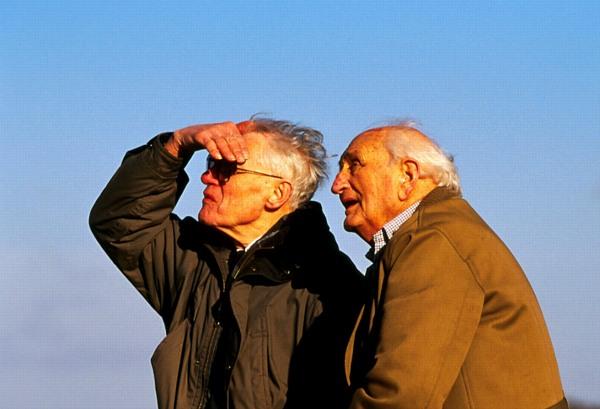 "If all went well," said Kenneth Lockwood, the secretary of the Colditz Association, a survivors' group, "The glider would soar for about a mile from a height of about 100 feet down over the town of Colditz, over farmland and finally over the River Mulde, landing on the far side of the river."
"The key thing was to cross the river," Mr. Lockwood said in a telephone interview on Friday. "If they could clear that they could reach a nearby railroad station, board a train and make it to Switzerland, which was neutral."
Jack Best, who led the operation to build the glider, together with Bill Goldfinch, who designed it, said: "We made it out of anything we could find wooden floorboards and bedsheets. "We didn't beg or borrow we just pinched it. It was built right up in the highest portion of the castle and we were going to launch it by pushing it over the end of the roof.
The castle was originally built in 1014 as a hunting lodge for the kings of Saxony. Throughout its history, it has been the centre of war and siege, and thus rebuilt many times. The castle was completely destroyed in the 15th century during the Hussite wars. It was then rebuilt and given as a wedding present to a Danish Princess in 1583. In 1634 Imperialists captured the castle only to lose it again to Sweden in 1706. Its role then changed to a prison in 1800 and then a hospital for the mentally ill in 1828. This is how the castle remained for over 100 years, until starting its relatively short span as a prisoner of war camp during the Second World War.
"When we first saw her lift off, it was magnificent. To see this has made me happy really happy."

Jack Best

August 6, 1912 -April 22 2000

Soar free forever.