and

proudly announce the:

Adopt-a-Kybo Program
Every year after RAGBRAI hundreds of kybos are abandoned. Many are too old, too worn out to make the long trip across Iowa again.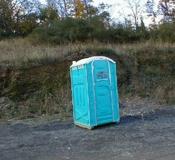 Kybo abandoned on roadside
The 24x7 nature of RAGBRAI is hard on a kybo. Hundreds of worn-out kybos end up abandoned alongside Iowa byways, destined never to relieve another cyclist. Plastered with team stickers, their springs sprung from PVC doors getting slammed thousands of times per night, they hold solitary vigil against the night.
Throughout the cold Iowa winter, hundreds of kybos stand at attention in empty corn fields, awaiting a call for dookie duty that never comes.
Society simply has no "place" for worn-out kybos.
Some kybos get melted down and recycled into soda bottles without so much as a
well-deserved soap and water rinse.
There's nothing sadder or lonelier than an unwanted kybo.
But you can help change all that.



Starting in 2003 the Des Moines Register is launching the official RAGBRAI
Adopt-a-Kybo program.
For just pennies a day, registered riders can help a family lacking indoor plumbing "adopt" a former RAGBRAI kybo.
For these families, the "miracle" of an add-on "convenience station" is almost too good to be true. A kybo "adoption" means no more walking barefoot in the snow to an outhouse and afterwards, discovering your butt cheeks are frozen to a metal toilet seat.
Student engineers from the University of Iowa have designed a "Docking Station", easily constructed with local materials, which allows RAGBRAI kybos to mate, leak-free, with most modulars, mobile homes, and travel trailers. The "system" meets code in most Appalachian states.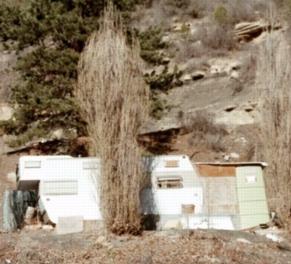 Modular Kybo "docking station" design
For only twenty-seven cents per day, we'll arrange for your family's adopt-a-kybo to receive bi-monthly "service" from the same folks who re-stock the paper and empty the "product" during RAGBRAI, ensuring your adopted family's continued comfort, dignity, and hygiene. ***
*** urinal cakes not included in basic monthly fee.
| | | |
| --- | --- | --- |
| Airstream Docking Station Modular Adapter | | Press Coverage of Adopt-A-Kybo Program |
Think about everything that RAGBRAI has meant to you.
Recall your favorite Kybo memories, perhaps:
Waiting in line
Scanning anxiously for a green "open" sign to appear
Perhaps a faint whiff of Powerbar™
Awakening to the joyous sound of kybo doors slamming at 5 a.m

Even the humor of discovering there's no paper left!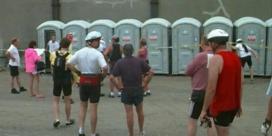 Isn't it time you gave a little something back to RAGBRAI? Sign up today for the
Adopt-a-kybo program
ADOPTION PAPERS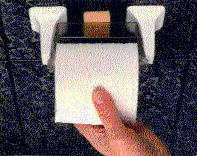 If you know of a family "in need", please contact the Register's Kybo placement officer @ www.adoptakybo.com or call, toll-free, 1 800 GET N2A KYBO
Testimonials:
Henrietta Slaughter, North Carolina: "We were embarassed about not being able to afford an indoor bathroom. Because of the Register's Adopt-a-Kybo program that stigma is all gone."
Urleen Massy, West Virginia "The convenience is just incredible. Why, you'd never no over 10,000 cyclists did their duty in this thing. There's practically no odor at all.
Real recycling that meets human needs - and dignity!
Adopt-A-Kybo™ Copyright 2003 The DesMoines Register